Moss Biscuit mix delivers scratch-made look and flavor that bakes perfectly every time. Try adding buttermilk to get that unmistakable southern biscuit taste. Let the smell of fresh-baked biscuits fill your home today!
Did you know the best fried chicken you've ever tasted comes right from your own kitchen with Moss Chicken Breader Mix? It has the perfect blend of spices and seasonings. And don't worry, your secret recipe is safe with us.
Moss Seafood Breader lets the flavor of fresh seafood shine with the perfect compliment of seasonings. Whether you're an expert angler or just an expert in great seafood, you'll find no better light and crispy result anywhere else.
The humble hushpuppy is an iconic side item for seafood, barbecue, and other great dishes. But when you try our varieties of Moss Hushpuppy mixes and fresh-frozen hushpuppies, you may believe they're the star of the show.
Water Ground Style Corn Meals
Do you like cornbread with chili on a winter evening? Or how about a summer picnic with a sweet butter-topped cornbread muffin? With Moss Corn Meals, it's always the right season to bake an absolute cornbread classic.
Most folks would tell you that hot, simple, and delicious Moss Grits take any breakfast to the next level. We say, why stop at breakfast? Our authentic stone-ground grits are perfect for shrimp and grits or other grits dishes.
Great Taste Runs in
the Family
Buffaloe Milling has been a fixture in the community of Kittrell, NC, since 1850. For three generations, we have been a family business dedicated to producing the highest-quality products and the best value for our customers. That's a legacy we pride ourselves on carrying today and into the future.
Current owner and CEO, Daryl Spencer had this to say about what it means to put his Grandfather, Johnnie Moss', name on our signature line of products:
"My grandfather knew the value of an honest day's work and loved coming in every day to make a difference for his customers. There was no greater reward to him than a satisfied customer returning again and again, and with our Moss line of products, that's what they do."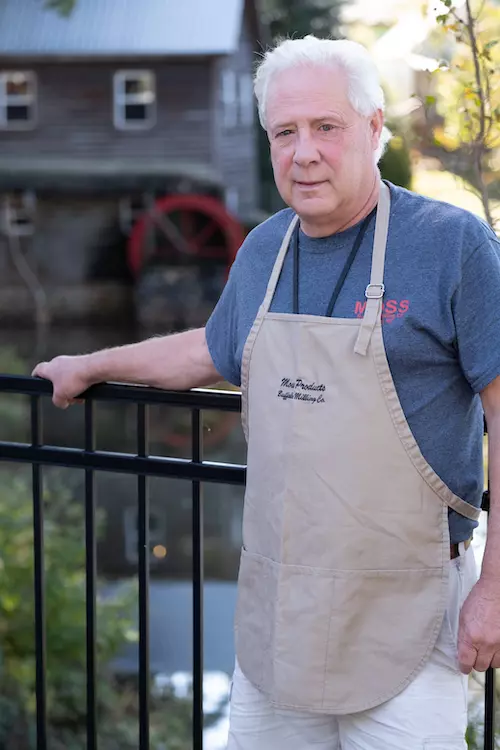 Simple Ingredients. Delicious Results.
We source fresh, wholesome ingredients local to our mill so we can deliver the highest quality products to you and your family. When you use Moss products, you're not only enjoying the best flavors and recipes available, you're supporting a family-owned business that cares about your experience.
We would love to hear from you!

"Moss Hushpuppies are the best…"
"Moss Hushpuppies are the best I've found. So simple and so good!"
Katie S. 

"I'll only use Moss Seafood and Chicken breaders. I moved from NC to New England and I have it shipped …"
Devon L.

"People always clean their plates."
"Moss Seafood and Fish Breaders are my secret to a good fish fry. People always clean their plates."
Patricia E. 

"Moss biscuits are amazing!"
"Moss biscuits are amazing! It's making me want one just thinking about it."
Nathan S.
MON – FRI
7:00 am – 4:00pm

All content ©2023- Buffaloe Milling Company, Inc.
PO Box 145 Kittrell, NC 27544